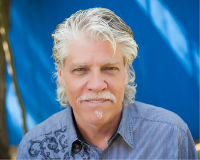 Contact Russell Forsyth by phone at 512.999.8478 or send an email
Russell's Intuitive Training Website: iel-institute.com
About Russell
Russell is a writer, storyteller, teacher, musician, artist, healer, and inventor that has worked in the spiritual arts to develop his intuitive skills while helping others find their path to enlightenment. His career as an award winning historic restoration contractor, instilled an ability to focus his attention on the most subtle details. Russell now applies that skill to the world of the metaphysical, specializing in ontology where science meets spirituality.
Russell currently resides in Austin, Texas, maintaining an active energy healer boutique referral practice built on testimonials from other clients, doctors, counselors, business leaders, and professionals. He works one-on-one with several hundred people a year, in person and remote, specializing in master level energy assessments and intuitive readings. His focus is in health, life path, business, career, finances, and energetic issues related to relationships, attachments, karma, imbalances, the endocrine system, spiritual illnesses, and spirit-driven guidance.
Russell invented a unique energy device in 2007 called The Forsyth Crystal Light Table©. He discovered in that process the passion to develop a multilevel teaching platform for personal growth, intuitive reading, modern shamanism, and the medical intuition. The flipped classroom style model, contains over 170 tutorial videos and a seven-level training program that teaches 21 subjects related to the metaphysical. His lifelong love for mysteries instilled a desire to understand the non-physical dimensions, and an energy detective was born.
Russell and his wife of over 40 years, have teamed up to create Crystal Light and Sound, an online store that carries unique crystal and energy healing related products crafted by world class lapidary artists. They also developed a team of advanced teachers to create the IEL Institute for the Spiritual Arts, a platform designed to bring together a community of like-minded people with a desire to be the change they want to see in the world. Together, they strive to maintain the highest level of customer service with Crystal Light and Sound and the IEL Institute for the Spiritual Arts.
Some of Russell's other interests include being part of the Living Room family of storytellers, created by Amparo Crow. He has co-produced a live television variety show titled Citizen's Live by Dean Langston, as well as theater stage productions like Moving Love, a One World Theater production by Suzanne and David Armistead, and was chosen to star in a TV pilot show by Silent Crow Productions with producer Pat Jones called The Angel Readers. Russell produced three music albums with Aaron Micheals, Craig Toungate, and Herb Belofsky under the artist name of Russell D and Thundering Grace.
Russell and Beckie enjoy their two sons and five grandchildren, along with their extended family. His mother Glenna Forsyth was instrumental with instilling a love for art and a desire to help others. Russell supports his wife Beckie Forsyth with her passion for creating amazing charcoal art, her sound journey performances with her musical partner Gahana Bonnington, and their first release as Heartistry titled Inner Sanctum, produced with help from Susan Lincoln.
For over 600 weeks, Russell has dedicated himself to writing a weekly channeled message called Angel Whispers, a word study geared toward gaining spiritual knowledge and wisdom. Russell has self-published over 1.2 million words since 2006. Still a builder at heart, Russell designs and constructs his unique Forsyth Crystal Light Table© for spas, healers, and individuals around the world. From an esoteric description, Russell is a writer, dreamer, channeler, philosopher, spiritual detective, seeker, and a humanitarian.
Bring joy, ease suffering, and create beauty.
Testimonial
I suffered from a 5 year abusive and toxic relationship. The relationship ended a year ago and I struggled to get balanced physically, emotionally and spiritually. The year following the break up was difficult. I had been in fight or flight for years. My self confidence was gone. I could not understand what had happened. I had trouble sleeping, concentrating and focusing. I was weak. My energy was depleted. Nothing made sense. I was missing….
I have been under the care of a physician that specialized in Neuroendocrinology. She has done full blood panels every three months for the past year and a half. My cortisol, glucose and cholesterol were way up. Prior to this relationship I had been the picture of health. He had sucked the life out of me, and was continuing to do so … even a year after our break up. I felt dirty, tired and my heart ached. It made no sense … I am truly in a much better place!! I should be energized. My cortisol and glucose would not come down despite my consistently healthy diet and regular exercise. I am back home surrounded by loving family and friends, far away from the abuse. Why was I still suffering? Thank God I finally called Russell Forsyth!
Russell found a parasite from the relationship that was still attached to me. The parasite continued to feed on my energy and leave me depleted. Russell removed the parasite while I lay on the crystal bed. I literally felt it stuck in my throat for a minute or so. Then I felt it leave. I left Russell's office feeling lighter, brighter, clearer, smarter, HAPPY! It is amazing the difference this treatment made. I feel like myself again!! Last week I returned to my doctor for my 3 month blood panel. The results were fantastic! My cortisol, glucose and cholesterol are back in normal range. I am sleeping through the night. My food cravings for sugar and carbohydrates are gone. My brain is clear. The world is brighter. My energy is back. I have no heartache of loss or regrets. I am free. I am me again!! My doctor is thrilled and acknowledged her firm belief and support of energy medicine and healing. She told me that I looked better than I had in years!! I absolutely Feel better than I have in years!!!