Crystal Singing Bowl Soundbath | Community Light Table | Coaching | Energy Assessment | Energy Balancing | Intuitive Readings |  Remote Energy Healing | Training
Blueprints from the angels
The Forsyth Crystal Light Table© is a unique energy tool, invented by Russell Forsyth, that combines ancient wisdom with modern modalities to bring balance and harmony to the human body. Russell received visions of blueprints during channeling sessions with the angels and, as a former builder, acted on the inspiration to create this unique device.
The power of combined crystal therapy, magnetic therapy, sound therapy, angel therapy, and chromotherapy
Once on the table, magnetic therapy, sound therapy, chromo therapy, crystal therapy and an Angelic gateway form a unique Reiki crystal grid that surrounds the entire body with vibrations. The process of bathing a person in oscillating resonance can return a person to their sovereignty in alignment with their core essence.
The focus on intention, the act of ceremony, and the expressions of gratitude ensure the individual connection to the energy of love in a moment of divinity.
One of the most practical applications of the Forsyth Crystal Light Table© involves the chakras and the body's energy centers. The tones from the crystal bowls stream into the chakras with true harmonic vibrations that displace lower frequencies. This allows for the removal of blockages and the clearing of energy channels clogged by stress, negative emotions, or trauma on all levels.
A major component of the light table is the use of fine-cut crystals. There is a powerful therapeutic effect delivered by these fine gems that are one of the only minerals on earth that have a measurable vibration. The frequency held by crystals are an identical match to the rate of vibrations held by the human body and the frequency of water. By directing low doses of natural radiation into the energy, in combination with sound vibrations tuned to a certain frequency that matches each charka, a molecular restructuring or re-patterning can occur. (Dr. Marcel Vogel, founder of the Vogel Cut Crystal)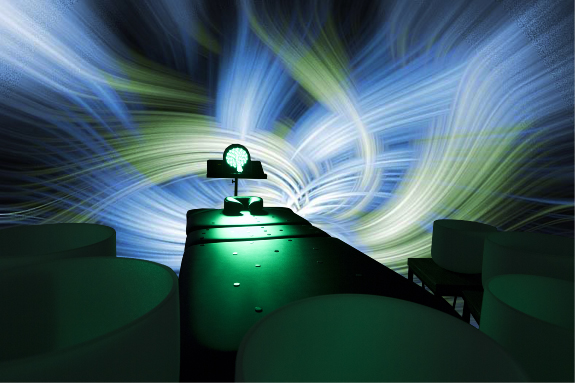 The technology of transformation
With almost ten years of case studies and thousands of people having experienced this unique device, the Forsyth Crystal Light Table© has been shown to lead to shifts that some claim as miraculous. The FCLT© goes through periodic updates and improvements with new discoveries around technology and modified through feedback from clients. Light tables are custom built for practitioners, and are currently found in Colorado, Georgia, Manhattan, Fort Worth, Houston, San Antonio, and Austin, as well as in Australia. The list of Intuit the Energy of Love (IEL) Graduates who are incorporating the Forsyth Crystal Light Table into their practices is rapidly growing. We are also seeing the light tables being added to spas, so visit our practitioner page to see if there is a FCLT© near you.
Would you like an appointment?  Call me at (512) 999-8478 or click here.
Learn about out courses and the only Crystal Bed Therapy Certification Course in the world!
Have us custom build your crystal bed!